Elizabeth Jensen & Empower Your Path Healing
To live in the beauty of imperfect and to know that is what is perfect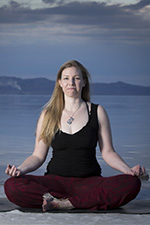 I grew up in the mountains of Park City, Utah, and yet I always been very drawn to the ocean. This passion took me to Occidental College in California where I graduated in 2002 with a major in Biology with a Marine emphasis.
After college, I returned to Park City where I taught at a Montessori school, which would be my first endeavor into the teaching realm. In 2005, I stepped into my personal yoga practice at The Shop and by 2012 I had completed my first 200-hour Anusara teacher training. Since then, I have completed multiple levels of training in Anusara and assisted in a 200-hour teacher training. I attained my Anusara-Inspired teaching status in 2017 am currently working toward completing my 500-hour teacher training.
Through my own life process and desire for my own personal growth, I engaged a Reiki master for a session, which left such a profound effect that I decided to complete the Reiki Levels 1, 2, and Master in 2010 so that I could both benefit from and share this healing with others.
My journey through continuing my own self-development brought me to Vibrational Attunement (my term for Sound Healing). In 2013, I added that to my yoga classes and the healing services that I offer. Soon after, I embarked on my certification for Yoga Nidra, completing my Level 1 in 2015, Level 2 in 2016, and am currently in process of attaining full certification.
I am on a continuous path of growth and always adding new tools to help empower as many people as I can to heal and to trust, to learn to listen to themselves, and to find their true worth within. I look forward to where my heart and passion will take me next!
My Mission and Goals
To empower you in reclaiming and utilizing your power and recognize what you want out of life


To help you to connect to the unique, beautiful, authentic being that goes by your name


To give you the tools to know how to navigate the waters of your personal journey


To To support you in taking the steps and commit to self-care and being responsible for your life and choices


To offer you the opportunity to understand the relationship between our internal and external worlds, and how we work in both


To connect to the whole picture of health and wellbeing: body, mind, emotions, energy, etc.


To facilitate your own sense of peace, compassion, acceptance, and beauty of life


To understand what it is to be human and how we all function in that realm


To live in the beauty of imperfect and to know that is what is perfect
*Please note: I am not a mental health practitioner.